Prints are now available for purchase of a slightly fantastical watercolor painting of the River Avonmore.
After trekking through the woods in completely inappropriate footwear, I stumbled upon the banks of the Avonmore.  The word "Avonmore" stems from Irish words meaning, "big river", and it's no wonder why those who view images of the river frequently refer to it as a lake by mistake.
Standing there, I felt as though the branches of the tree to my left flowed wistfully out to the tree on my right.  She looked like a woman's scarf unraveling in the wind.  The tree to my right also reached and longed to cross over, but he did so rigidly.  He was inhibited by his masculine form.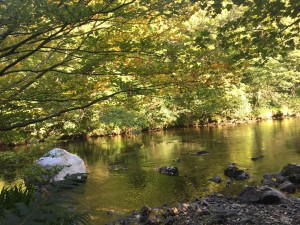 I decided to give the two lovers a little help in my reenactment of the snapshot of their dance.  The woman received an array of colors and even more sway to her branches.  The man received a deep, ruddy hue and his skeleton became the grasping hand in my imagination.  The rest I left to its ordinary splendor.
If you wish to purchase a print of this piece, they are available through the link to the distributor above.  The majority of the cost goes to the distributor for production and shipment of the prints, with a smaller portion going to yours truly.  They show the most expensive options first, but if you're looking for least expensive, go to "FINE ART PRINTS" at the bottom, right side of the page.  Click "buy now", then on the next page that opens, change the "paper type" to anything other than "hahnemuehle rag 308".  The "luster photo" and "glossy photo" options are the least expensive, but I would recommend at least the "fine art matte" for this piece.